Jessica Reynolds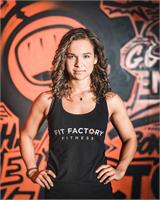 As a retired professional dancer Jess learned quickly about the importance of strength training after sustaining many injuries through rigorous and demanding work in her career.
She picked up a barbell and fell in love! In awe of what her body was capable of, she thought "how could I not share this with others?"
She attained her Personal Training certificate from CanFitPro and dove right in. Striving for people to 'surprise' themselves as she had done when she was winging it solo.
In addition to being a retired professional dancer and dance instructor, she's also a professional Film and TV actor. She loves everything performance related (film, stage and personal performance) and really aims to make her classes challenging, with a little touch of humor to get you through those hard times.
Specializing in combining unconventional strength and High Intensity Interval Training (HIIT), Jess is known for creatively enhancing traditional methods. She can either be feared or loved in the gym but always respected for her dynamic routines, out-of-the-box thinking and strategic results. Her workouts challenge and engage the muscle groups at a deeper level, while incorporating fundamentals for balance and flexibility.
Jessica Reynolds instructs the following:
Boot camp classes are guaranteed to make you sweat! Be prepared for a dynamic full body workout that includes interval drills, plyometric, body weight exercises, strength training, and more. This head-to-toe functional training program is designed to be both fun and challenging for all fitness levels! Please bring your running shoes to every class and be prepared to go outside at any time.

*Indoor running shoes mandatory