Kurt Gordon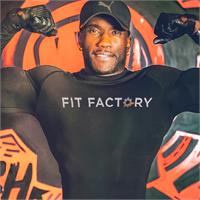 Kurt is extremely passionate about fitness and health and his mission is to motivate and encourage individuals towards a more positive, healthy, active lifestyle by raising awareness on the importance of physical health.
With a B.A. in Computer Science and a natural talent for graphic design, he has been working in the graphic design and signage industry in Jamaica. Over the last 10 years, he has been drawn to the world of fitness, attaining a certificate from the Aerobics and Fitness Association of America. Upon attaining this certification, he began personal training as a hobby, gaining the encouragement and respect from his clients and colleagues.
Upon moving to Canada in 2016, he decided, he attained a second personal training certification from Canada Fitness Professionals.
Kurt's goal is to improve his clients' range of motion, practical strength and cardiovascular fitness. If you are a novice, he hopes to prepare you for an upward swing towards your best fitness level. If you are experienced, he hopes to help you push pass your boundaries. He believes that it is our will that dictates our abilities.
Kurt Gordon instructs the following:
Get ready for a THROW-DOWN!

This class is 1 hour of boxing drills and maneuvers. You'll be working up a sweat with the gloves on! Running shoes, boxing gloves and hand wraps are mandatory.

*First time glove rental is free

*Boxing gloves may be rented or purchased in studio

*Hand wraps are mandatory and may be purchased in the studio




Boot camp classes are one hour and guaranteed to make you sweat! Be prepared for a dynamic full body workout that includes interval drills, plyometric, body weight exercises, strength training, and more. This head-to-toe functional training program is designed to be both fun and challenging for all fitness levels! Please bring your running shoes to every class and be prepared to go outside at any time.

*Indoor running shoes mandatory




Ready! Set! Pump....but slowly! This class will include everything you need to build strength and more defined muscles. Focus on heavy weights, a slow burn and perfect form. No more than three muscle groups will be trained during this class.

Monday - Chest & Biceps
Tuesday - Legs & Shoulders
Wednesday - Back & Triceps
Thursday to Sunday - Full Body




New to Fit Factory and military style boot camp workouts? This 60 minute class is designed to introduce new members to the demand and expectations of our regular classes and to teach you the proper form for the key exercises that you'll be performing in the regular classes - just as challenging but at a more manageable pace. All new recruits MUST participate in a minimum of one of these classes within their first 30 days.